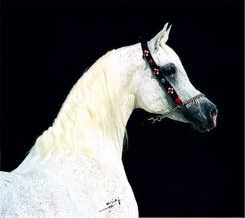 reference photo:
Bred toBarakel BlackStar this mare (g) has produced 3 fillies, 2 black, 1 grey.
Congratulations to Serenity Springs Arabians owner of Daarla's last black Straight Egyptian filly!
these are the other 2.
Daarla, Jahdiell, and Daari are currently on lease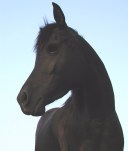 Black SE Filly Jahdiell (at 3months) and 3 yrs.
Dam: MJL Ale Daarla (Grey) pedigree below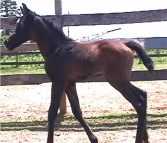 photos: Maxwell
BKL Daari (pending)



Alidaar* (G) 1984


Shaikh Al Badi (G) 1969
*Morafic (G) 1956

*Bint Maisa El Saghira (B)
Bint Magidaa (G) 1970
*Khofo (G) 1965
*Magidaa (C) 1964
My juel Aleeraaj
(G)




*Sawraa EAO (C) 1972
Waseem 1957
Nazeer (G) 1934

Malaka 1941
Nagdia 1959
Nazeer (G) 1934
Zahia 1949
MJL Ale Daarla (G) M 1994


*Norus (G) SBWM/cahr/
1984
Gharib (K) SBWM 1965
Antar (C) 1946
Souhair (B) 1954
*Noha (G) SBWM 1971
Hadban Enzahi
SBWM(G) 1952
Nadja (G) SBWM 1955
*Nordalla (B)



Dalla El Wadi (C)
Dalul (C) 1968
*Morafic (G) 1956

*Dawlat (C) 1961

Bint Set El Wadi

(B) 1972




*Ibn Hafiza (B) 1959
*Watfa (G) EAO 1967
Pedigree